2008/01/15 01:15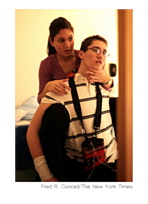 The New York Times today traces
the challenges faced by an occupational therapist,
Jodi Levin, who works with brain-injured patients at the Kessler Institute for Rehabilitation in New Jersey (in the picture on the right, Jodi is working with a traumatically-brain injured young man). In tracing the story, readers find themselves confronting the realities of brain injury, its often young victims, and the pressure that insurance companies exert by limiting the amount of treatment they will authorize.
Over the last couple of weeks, I've finished reading two books about the experience of brain injury and this article reminded me of many issues raised in those personal memoirs. The first book,
Where Is The Mango Princess?
(Crimmins, 2000) offers a harrowing portrait of the realities of brain injury in the lives of a middle-aged husband and father, Alan, his wife, Cathy (the author), and their child, Kelly. Cathy's rage against the horrors of the insurance industry and the regular but heartless denial of benefits to its policy holders could hardly be better described. More subtle and personal is the 1998 autobiographical narrative of Dr. Claudia Osborn, called
Over My Head: A Doctor's Own Story of Head Injury from the Inside Looking Out
. Osborn is a medical internist, originally practicing in an inner-city hospital in Detroit, Michigan whose brain injury brought her to New York City's
NYU-Rusk Institute of Rehabilitation Medicine
and its famous Head Trauma Program (HTP) directed by Dr. Yehuda Ben-Yishay. From the first-person perspective that Osborn adopts, she weaves a powerful tapestry of the multiple and elusive problems, particularly inattention & adynamia, that TBI survivors like herself must confront and cope with. I'd be remiss if I didn't also mention a book I read in a pre-publication version about six years ago. The volume,
Rescuing Jeffrey: A Memoir
, was written by Richard Galli, the father of the 17-year-old boy who dove into a pool and hit his head. The effect was a disabling spinal cord injury and a perilous journey through medical and rehabilitation crises for both Jeffrey and his family. It is essential, I think, to come to grips with the experiences portrayed in books and articles like these if we wish to understand how different life becomes after injury to the central nervous system.
Target Link:
Hoffman, J. (2008, January 15). Coaching the comeback
.
New York Times
. Downloaded January 15, 2008 from the New York Times website.
References
Crimmins, Cathy. (2000). Where is the mango princess? New York: Knopf. ISBN: 0375404910 (hardcover) 0375704426 (pbk)
Galli, Richard. (2000). Rescuing Jeffrey: A memoir. New York: St. Martin's Griffin. ISBN: 1565122704 (hardcover) 0312283407 (pbk)
Osborn, Claudia L. (1998). Over my head: A doctor's own story of head injury from the inside looking out. Kansas City, MO: Andrews McMeel Publishing. ISBN: 0836254198 (hardcover) 0740705989 (pbk)