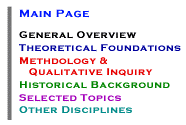 Last updated:
September 4, 2005
Narrative Psychology Search

Theorists and Key Figures: Index
This subpage provides an index to those individuals, cited in this guide, who are important theorists, researchers, or contibutors to narrative psychology, the interpretive turn in psychology and the social sciences, and the diverse influences upon narrative which this resource guide details. These individuals include some of the most influential names of the past century and a half as well as persons with more modest scholarly or literary contributions. Only a minority of these writers are psychologists and, so, this list demonstrates the range of influences shared within the "interpretive" psychological community. For each name in the index, there is a link to either a shorter biographical/bibliographical notice about the individual or, for a smaller group of key figures, a separate page which offers a wider set of materials about the figure. The bio-bibliographical entries do not pretend to provide a comprehensive introduction to the individuals' lives. Rather, they are limited to basic biographical data and the ways in which the individual contributed to the narrative perspective.
The decision to include an individual on this list is grounded in both a personal judgment from my reading of the literature and results gathered from studies of the scholarly judgment of other narrative reseachers as well as journal citation frequencies (Hevern, 2001; Hevern, in preparation)

Construction Note: Visiting the Jesuit Church of St. Francis Xavier (De Krijtberg) in Amsterdam in 2000, I found an interior undergoing extensive renovation and restoration. Building equipment, tools, and scaffolding were scattered about the whole interior of the church. But, each Sunday throughout the construction, the religious congregation still came into the space, cleaned away the dust and debris from the pews and aisles, and held a weekly Catholic mass (insurers in the US would shudder at the liability.) In somewhat the same fashion, this bio-bibliographical guide is posted online as is despite so much work which remains to be done. It will probably take until the end of 2003 to complete all the shorter biographical/bibliographical notices currently planned since there are roughly 100 individuals on the list. Browers seeking information here are asked to be patient.
Suggestions from browsers about missing theorists or bio-bibliographical resources (particularly Internet-based) which might be listed here are welcome.
See also General Biographical and Historical Resources = Homepage of Figure links to a page within this site