REV. DONALD J. KIRBY, S.J., Ph.D.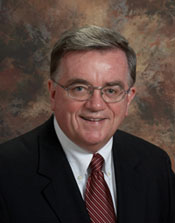 Professor, Religious Studies Department
Office: Reilly Hall 218
Office Hours:
Phone: (315) 445-4688
Email: kirby@lemoyne.edu
Biographical Summary
Don Kirby is a Professor of Christian Ethics at Le Moyne College in Syracuse, N.Y., an ordained Roman Catholic priest and a member of the Society of Jesus (Jesuits) of the New York Province. Recognizing the critical need for values education and values development in contemporary higher education and in professional schools he helped spearhead the creation of a grassroots educational effort to discover and implement ways to meet this critical need. Part of the strategy was the establishment of the Center for the Advancement of Values Education (CAVE) at Le Moyne College. He served as its founding director from 1988 - 2003. His most recent book is entitled Compass for Uncharted Lives: A Model for Values Education (Syracuse University Press, 2007). The co-author of Ambitious Dreams: The Values Program at Le Moyne College (Sheed & Ward, 1990), he has given workshops on values education and development for higher education both in the United States and internationally and has served as consultant and board member for a variety of non-profits, educational institutions and businesses.

Research Interests
Christian Ethics, values education and values development, the values dimensions in one's personal and professional life, faculty and staff development, the spiritual dimension of values and human relationships, Christian faith experience, corporate responsibility.
Philosophy on Life
My aim in teaching Christian Ethics, values, spirituality and culture is to assist students to recognize and understand the importance of the moral dimension in their personal and professional lives and to enhance their commitment to ethical decision-making.
"To be sure, if we act thus, we shall little by little and with the grace of God, be clothed with the spirit of his holy reverence and we shall show in our way of speaking and acting, as in our religious behavior and daily conduct, that we respect and love him. Not by restraint and weary effort, but spontaneously and effortlessly." John Henry Newman, Parochial and Plain Sermons.