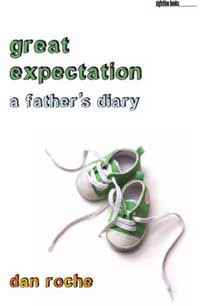 "Women should buy a copy of this book for their husbands because it should be required reading for them: Roche is the voice of silent fathers everywhere."

--Sharon O'Donnell, author, House of Testosterone: One Mom's Survival in a Household of Males
from great expectation...

July 21
A check-up today. What we learned, as the OB put it, was that we've got "quite a critter in there." He'd found the heartbeat with his little microphone, and it was going clippity-clop, clippity-clop. "You might want to take the kid right to Vernon Downs," he said, meaning the nearest racetrack. "You can name him Lucky."
That was it: confirmation of a living fetus, the sex to remain a mystery. The doctor seemed pleased to stop there and turn his attention to us.
"Got any worries?" he asked.
Maura told him she'd like to be putting on more weight (only two pounds in the last month), but the doctor waved his hand and declared her perfect.
"The only thing I worry about is having a boy," I said.
"Ah, boys are easier," he said jovially and immediately, as everyone seems to say.
I argued. "Nothing could be easier than raising Maeve," I told him. "She's about as much trouble as a houseplant."
He smiled but leaned back against the linoleum counter and settled in to tell me everything I didn't know.
"You see, with girls," he began, "you've got to talk to them and figure them out. Everything's complicated. Boys, they play. If they put their hand through a plate-glass window, they hold it up and say, 'Cool.'"
I admit that Maeve has been "sensitive" about some things. There was the time when she was getting close to being potty-trained and messed a pair of panties that had Cinderella on them. Maura was washing them out in the toilet and flushed, only to have the panties be sucked out of her fingers and down the tube. Maeve saw the whole thing and was inconsolable. For forty-five minutes she bawled-still a personal best. Maura comforted her on the sofa, but couldn't make any inroads. Finally, through the exhausted sputtering of her shaking lips, Maeve was able to explain why she was so upset. "Now Snow White won't have a friend!" she cried, and then began bawling again.
She wasn't traumatized for herself. She was empathizing with another pair of underwear.
I'll take that kind of "complication" over a boy's wish to flush more underwear down the toilet.
Copyright 2008 Dan Roche: All Rights Reserved