INTERMEDIATE SPANISH 103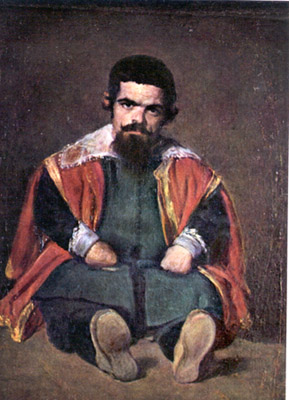 The dwarf Sebastián de Morra by Velázquez
TEXTS:
En Breve

by Resnick, Giuliano, Golding
Thomson and Heinle 2002
Fifth edition
El Cuento Hispánico

by Mullen, Garganigo
McGraw Hill 2004
Sixth edition
COURSE DESCRIPTION AND OBJECTIVES

The course seeks to develop the four skills ( listening, speaking, reading and writing) that are part of learning a language. Students will get acquainted with some Hispanic culture too.
The first six lessons will be studied in the Spanish grammar book, En Breve. The present, imperfect, preterite and future of the indicative will be learnt, and so will some compound and progressive tenses. The conditional, imperative, subjunctive present, passive voice and their uses will be explained. We will review nouns, adjectives, adverbs, possessive and demonstrative adjectives and pronouns. In addition to the grammar, students will have to study idioms and the relevant vocabulary taught in the first six chapters of En Breve. We will read at least five stories in the book El Cuento Hispánico, and students are required to attend a play which will be offered by a Spanish company during the semester.
The course will be conducted in Spanish but the grammar will be explained in English. Class time is, above all, used to develop listening and speaking skills (in dialogue between students and teacher, and in group work). Class activities are in Spanish and students are expected to participate very actively. Accuracy is essential in oral and written work.

COURSE REQUIREMENTS
Classwork
Students must come to class well prepared: the new vocabulary should be memorized, the grammar studied, the written assignments written and handed in on the stipulated day, and the readings read at least three times.
Absences
Attendance in class is required. Any absence will lower the weekly grade given for oral participation and performance, and a maximum of five absences is allowed before the final grade is lowered. Absences due to illness and/or emergency may be excused with appropriate documentation.
Exams
There will be plus and minus grades. For example, B+ will correspond to 87 to 90, B to 83 to 87, and B- to 80 to 83.
A thirty-minute exam will be given at the end of each of the first five lessons of the grammar book. There are no make-ups, except in emergencies. If sick, (appropriate documentation is needed), students should call me the same day the exam is given so that an exam is rescheduled for them.
The final examination is comprehensive and will include a composition. It will be held during exam week.

FINAL GRADE
The final grade is made up as follows:

| | |
| --- | --- |
| oral participation and performance in class | 25% |
| written assignments | 5% |
| exams | 40% |
| final exam | 30% |




SPECIAL NEEDS

In coordination with the Academic Support Center (ASC), reasonable accommodations are provided for qualified students with disabilities. Please make every attempt to meet with me within the first week of class so that your accommodations can be provided in a timely manner.




Mrs. Goodisman
Office: Grewen Hall, 127
Tel.: 445-4222
Office hours: M.W.F. 10:30 A.M.-11:20 P.M. and by appointment
email: GOODISMA@lemoyne.edu
---
Le Moyne Sites:
[WWW.LeMoyne.Edu] [Webserver.LeMoyne.Edu]

---
Created: 08/23/04