---

Created: 1/17/97 Updated: 27/7/09
INTERMEDIATE FRENCH 103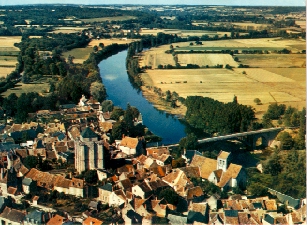 La Roche Posay (Vienne)
TEXT:
| | | | |
| --- | --- | --- | --- |
| À votre tour | by Valette and Valette | Houghton Mifflin Company | Second Edition 2007 |

COURSE GOALS
Improve communication skills in French (listening, speaking, reading and writing), so as to be able to carry on a short conversation with other speakers of the language, or write short letters in this language
Deepen an awareness of, and appreciation for, the cultures of the French-speaking world
Begin to make connections between the study of French and the study of other disciplines
Develop an understanding of the benefit that knowledge of French has for you, according to your personal circumstances, goals, and desires

COURSE OBJECTIVES
The student will improve his (her) understanding of French.
The student will improve his (her) French reading.
The student will show an ability to carry on the following communicative and grammatical functions in both oral and written forms:
- narrate in the present and past tenses
- elicit and provide information by asking and answering questions appropriately
-express negation
- express volition and opinions through the use of the subjunctive mood
- express feelings and changes of mood through the use of reflexive verbs
- use the right personal pronouns when replacing different words
The student will be able to describe people and their ailments, a house and its furniture, the weather and outdoor activities, daily occupations and services done by others.
The student will see and understand the differences between French and American civilizations and cultures.


COURSE ASSESSMENT
Classwork
The course will be conducted in French, but the grammar will be explained in English. Class activities are in French and students are expected to participate very actively. Accuracy is essential in oral and written work. Students must come to class well prepared: the new vocabulary should be memorized, the readings read at least three times, the grammar studied, and the written assignments prepared for the stipulated day.
Absences
Attendance in class is required. Any absence will lower the weekly grade given for oral participation and performance, and a maximum of five absences is allowed before the final grade is lowered. Absences due to illness and/or emergency may be excused with appropriate documentation.
Speaking, listening and reading objectives will be assessed by in-class oral participation, dialogue between students (group work), and dialogue between students and teacher. Oral participation is necessary and extremely important. A grade reflecting the student's preparation and performance will be given every class day.
Writing, listening and reading objectives will be assessed by written homework, four fifty-minute long class exams, and the final exam.
- An exam will be given when we finish studying the "reprise", and at the end of each of the first three units. There will be plus and minus grades. For example, B+ will correspond to 87 to 90, B to 83 to 87, and B- to 80 to 83. There are no make-ups, except in emergencies. If sick (appropriate documentation is needed), students should call me the same day the exam is given so that an exam is rescheduled for them.
- The final examination is comprehensive and will include a composition. It will cover the reprise and the first four units of the book. It will be held on Wednesday December 16 from 3:00 to 5:30 P.M.

FINAL GRADE

The final grade is made up as follows:
| | |
| --- | --- |
| Oral participation and performance in class | 20% |
| Compositions (homework) | 5% |
| Exams | 50% |
| Final exam | 25% |
SPECIAL NEEDS
In coordination with the Academic Support Center (ASC), reasonable accommodations are provided for qualified students with disabilities. Please make every attempt to meet with me within the first week of class so that your accomodations can be provided in a timely manner.


Mrs. Goodisman
Office: Grewen Hall, 127
Tel.: 445-4222
Office hours: M.W.F. 11:30-12:20 and by appointment
email: GOODISMA@lemoyne.edu
---
Le Moyne Sites:
[WWW.LeMoyne.Edu] [Webserver.LeMoyne.Edu]